Spike Blackhurst - Sculptor
---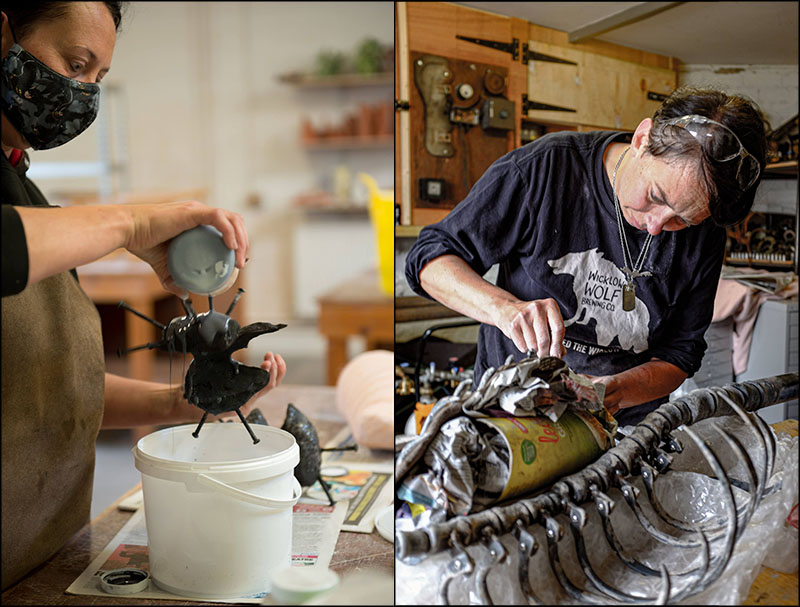 Spike Blackhurst was born in 1974 in Dagenham, UK. Her passion for art began as a child, and her education throughout school was focused on art, technical drawing and maths. Having completed her art & design foundation course at Epping Forest College, Spike moved to Bath to achieve her Fine Art Degree at Bath Spa University in 1993.
Walcot Chapel in Bath was where her first exhibition, "Pierced" took place. This was a comment on the topic of body modification, as Spike created over-sized casted sculptures in aluminium and bronze that pierced walls, floors, and various materials.
It wasn't until 2009 that Spike had her first solo exhibition at the MOMA in Wales, with "Suspended Emotions". This was with a series of sculptural forged backbones, all suspended from the ceiling to illustrate, highlighted emotions through poignant chapters of Spike's life.
Spike has always had a fascination for the macabre ever since her grandfather allowed her to watch various hammer house horror films as a child. Spike has found this a deep-rooted inspiration, especially with some of the German Avant Guard films such as "The Cabinet of Dr. Caligari" and "Nosferatu" later in her life.
Spikes main medium is metal, however since starting her Master's in Art at Wrexham University in 2018 her love and knowledge for ceramics grew and has developed. Spike graduated in 2021 with new collection of work, "Against All Odds", this has been pioneering in terms of processes, and through her extensive research and experiments has been firing forged metal in clay and creating a new glaze in the world of ceramics!
Spike has always achieved an emotional reaction through her sculptural medium and delivered what is often an abstract worded feeling into physical actuality for a wider audience to understand and further a connection.
Spike has a successful Artistic Blacksmithing business in the heart of Mid Wales, established since 2003. Whereby it was her main priority to focus on learning as many techniques and skills, so to achieve technical proficiency when transferring this knowledge to her sculptures.